Cologne Airport Departures (CGN)
Not all flights may be showing. If not available use search above to find your flight by airline, airport or flight number.
Destination
Airline
Flight no.
Scheduled
Est./Actual
Status
Skopje (SKP)
Wizz Air
W67724
08:40
Scheduled
Malta (MLA)
Ryanair
FR5205
09:10
Scheduled
Varna (VAR)
Wizz Air
W64518
09:25
Scheduled
Rome (FCO)
Ryanair
FR932
09:50
Scheduled
No flight departures were found at Cologne Airport.
Flight Departures at Cologne Airport
Cologne and Bonn have excellent transport links to the airport, so getting to the airport on time to catch a departure flight is not just quick and convenient; it is also quite cheap with public transport such as express buses and train.
Cologne Airport departures will find modern facilities like a branch of Reisebank for banking and cash requirements, a post office for last minute sending of post cards to friends, a pharmacy and medical center for small emergencies and a conference center for up to 200 people are all part of the excellent services available.
The two terminal buildings also offer dining and shopping facilities, with bars, restaurants and cafes catering for Cologne departures looking for a snack and refreshments prior to their flight. Both terminal buildings have an overall capacity of handling 14 million passengers every year.
Domestic departures at Cologne include Munich, Berlin, Friedrichshafen, Dresden and Hamburg, while international destinations like Istanbul, Paris, London, Zurich and Vienna for example are offered by a number of low-cost carriers. While Air Berlin and Air Europa are among the largest carriers, airlines like Air Arabia Maroc, Air France, Atlas Jet International, KLM, Austrian Airlines, Easyjet, Germanwings and Condor for example are cost effective alternatives serving some of Europe's most sought after tourist destinations.
Departures at Cologne Airport can return their hired cars to a number of well known car rental companies operating from this airport. Avis, Europcar, Hertz and Sixt all have rental counters at the airport terminals and their offices are open 7 days a week. Within the terminals there are also several travel agencies and tour operators that can advise passengers on onward international travel or domestic tourist destinations close to Cologne city or further afield in Germany.
Several airport hotels as well as guesthouses and hotels situated within the suburb of Porz are within a few minutes drive of the airport. Akazienhof Hotel and B&B Hotel Köln-Porz Airport, Hotel Ambiente and Hotel Holiday Inn Cologne-Bonn Airport are all affordable options for accommodation close to the airport, which is particularly convenient for Cologne Airport departures that leave very early in the morning or during the night.
Apart from tobacconists and designer clothes shops like Marc O'Polo and Esprit, there are also shops that cater for last minute gift shopping, such as Kirschner Kids for little family members or Hugo Boss for older ones. The Duty Free shopping experience includes cosmetics and perfume, tobacco goods and alcohol, designer fashion and accessories as well as jewelry and electronic goods.
Cologne departures can enjoy means at a variety of outlets, too. More traditional, local fare can be found at places like Sion Kölsch and Kölsch & Co, but Burger King, Subway and Starbucks are also based on site. The Rendezvous-Pianobar is ideal for meeting up for a last drink before departure. For the smaller appetite there's Kamps Bakery, where departures can enjoy a cup of coffee and a filled roll before joining their flights. The dining and refreshment facilities are evenly spread out throughout the two terminals and one never has to queue for long to get served.
For more information about Cologne departures, please visit the official website at www.koeln-bonn-airport.de.
Was your flight delayed or cancelled?
You may be eligible to receive up to 600 EUR compensation per person in your party..
Claim Now!
Beat the Queues
Don't stand sweating for 45 mins waiting for Security. Get a fast track and get through in 5 mins or less.
Book now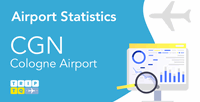 Cologne Airport Passenger Traffic Grows 5.66% in Q3 2023, Reaching 85% of Pre-Pandemic Levels