COLOGNE AIRPORT (CGN) INFORMATION
Origin
Airline
Flight no.
Scheduled
Est./Actual
Status
No flight arrivals were found at Cologne Airport.
Destination
Airline
Flight no.
Scheduled
Est./Actual
Status
No flight departures were found at Cologne Airport.
Car Hire at Cologne Airport
UNBEATABLE VALUE CAR RENTAL
Free Amendments | Free Cancellations | No Card Fees




Cologne Airport - All Information on Cologne Airport (CGN) Cologne Airport
Postfach 980120, 51147 Köln, Deutschland
phone +49(0)22 03 4040 01
phone+49 (0)2203 40-3108 (Lost + Found)
emailinformation@koeln-bonn-airport.de
emailfundbuero@koeln-bonn-airport.de (Lost+Found)
call_end+49(0)22 03 4027 02 (fax)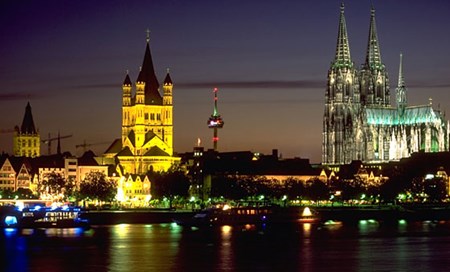 Cologne Airport is located 14.8 km southeast of the city of Cologne and ranks as Germany's seventh largest airport. Handling some 12.96 million passengers in 2018 and some 12.34 million passengers in 2017, the most recent success lies in the record-breaking amount of cargo that was handled last year. Some 860,000 tonnes of air cargo, the highest tonnage of air cargo ever transported in the location's history.
Serving both the city of Cologne and the city of Bonn, Germany's former capital, the airport was marginally affected by the increase in air traffic tax, which came into force in January 2011 and resulted in a 2% downturn of passenger numbers. While Air Berlin, the second largest local carrier, also cut some 430,000 at the time, the destination nevertheless saw announcements of new routes opening in 2012 – the Oslo route opened in March 2012 with three flights per week via low-cost carrier Norwegian; in April 2012 Ural Airlines commenced flights from Cologne to Moscow Domodedovo Airport three times a week and from June 2012 this increased to five times per week.
Cologne Airport serves one of Germany's most densely populated areas and for this reason is one of the few aviation hubs permitted to operate 24 hours per day. Located in the suburb of Porz, it is located just 16 km from Bonn and is also surrounded by the Wahner Heide nature reserve, a popular tourist attraction and destination for holiday makers.
Since the beginning of December 2011 the destination offers passengers even more amenities, starting with free WiFi access from anywhere in the terminal. Passengers and visitors will be able to surf the internet free of charge and without any time restrictions, 24 hours a day, 7 days per week. There won't be any complicated registration procedure for users to negotiate either. Any WLAN-compatible device, be it a smart phone, tablet PC or laptop can be used to access the FairSpot-Public network. Cologne Airport is the first in Germany to offer this service.
The airport also offers passengers the possibility of late night check-in a day before their departure, making the day of departure a little less hectic and therefore a lot less stressful. The airlines Air Berlin, Condor, Lufthansa, Sky Airlines, Sun Express, TUIFly, XL Airways and German Sky Airlines all offer check-in services between 6 pm and 9 pm for flights taking place the next day, although some are only dealing with flights until 11 o'clock and others only until 12.00 o'clock.
Arrivals, Departures and Airlines at Cologne Airport
Transport options to and from the airport are extensive with numerous car rental companies with desks inside Cologne Airport, and a wide range of ground transportation in the form of buses, taxis, trains and shuttles.
Visitors to Cologne airport have several terraces available for viewing the airport's take-off and landing runway or the apron, military and cargo sections. These observation platforms can be found at Terminal 1 between areas B and C. Making an excellent destination for family outings, the observation decks also have a Panorama Restaurant offering snacks and refreshments to little and grown up aviation enthusiasts alike. These observation platforms are open to the public from 6.30 am to 10.00 pm daily. Admission is free of charge and access can be gained via the staircase number 4, Conference Center in Terminal 1, which is also the route for visitors with reduced mobility.
Visitors to the German city can also enjoy a number of guided tours for groups of 10 or more visitors, although reservations must be made for such tours. The tour takes 1.5 hours and costs EUR 5.40 for adults and EUR 3.00 for students and senior citizens, while children go free.
For more information about the location, please visit the official website at www.koeln-bonn-airport.de.
The official code of CGN is assigned to Cologne Airport. The another official name is Cologne/Bonn. Please find below GPS coordinates which may help you in your arrival or departure. The Coordinates are 50.86667, 7.15000 which you can enter into your Smartphone or in-car GPS.
Parking at Cologne Airport
See options for parking services at Cologne Airport.
Hotels near Cologne Airport
There are a number of hotels to suit all budgets and requirements at or near Cologne Airport.
Additional Services and Amenities at Cologne Airport
At Cologne Airport you will find the usual array of bars and restaurants, airport lounges and shops.
Things to do in Cologne
There are a number of activities to suit all ages and interests in the region - see a selection of tourist activities in Cologne, Germany.
Services at Cologne Airport
Useful Information about Cologne Airport